Economy Machine Products, Inc.
Specializing in Quality Screw Machine Products Since 1954
An ISO 9001:2015 Registered Company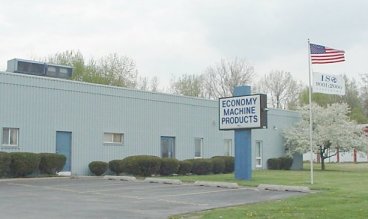 Growth Through Respect
---
Company History
Family owned and operated, Economy Machine Products (EMP) was established in 1954 on a foundation of honest business ethics. It began as a two-man operation in a small cinderblock building near Laud, Indiana. EMP moved to its present location in Roanoke, Indiana in the 1960s.

As the company has grown, EMP has expanded its capabilities to include designing and building custom machines for specialized manufacturing, in-house tool design and manufacturing, and on-site machine rebuilds and repairs. In addition, EMP has established a top rated quality system. In 1982, EMP became one of the first five companies to receive Ford Motor Company's "Q1 Preferred Quality Award". ISO 9001:2000 registration was completed in February of 2003, and the company has continued to keep the system updated to the current ISO 9001:2015 version.

In 2005, EMP received the prestigious "Half-Century Award" from the state of Indiana in recognition of its continued committment to community service during its 50 years of continuous operation within the state.

EMP's best asset is its people. Using the philosophy Growth Through Respect machine operators, engineers, quality inspectors, and the administrative staff have developed into a highly skilled, well-trained, and disciplined team that is committed to the highest standards of quality and customer satisfaction.
---
Economy Machine Products, Inc.
Last Updated 11/13/19
webmaster